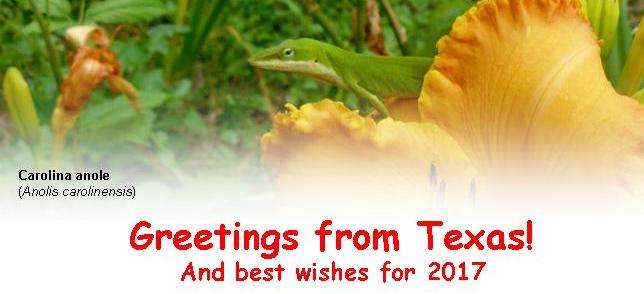 Well, it's been an up and down year for the Texas McLains.

One bright spot in the year was our citrus harvest. This year: a dozen regular navel oranges and three or four dozen Cara Cara oranges — a lovely navel type with pink insides. And at least five dozen satsumas (like tangerines), not counting the dozen or so that went to our friendly neighborhood opossum.

Other plants seemed to benefit from our up and down weather. Gingers were gigantic after a very soggy spring. Spring-blooming shrubs like gardenias bloomed heavily at the appointed time. Then, after a summer drought, they decided the dampish fall must be spring again, and they bloomed a second time.

And then there was the mixed blessing of our palm tree. Ten years ago, when Ann planted it, it was about two feet tall. This year it has become an imposing monster, so tall that we can can't even trim off its ragged skirt.

Neal's life seems to revolve around his volunteer work, his computer, the lawn mower, and the Met Opera Radio channel on SXM. He's still working on that slide-scanning project we reported last year — scanning and cataloging photos dating back to 1952. Not to mention all the photos he took with his old Sony Mavica camera, still stored on 3.5" floppies.

He's still doing most of his usual volunteer activities including running websites for local non-profits:


Neal has been cutting back on his volunteer work at the County Historical Museum and spending more time with his railfan buddies at the railroad museum. They all went on a road trip in April to catch a ride on the Texas State Railroad, a state-owned tourist railroad.

Ann's backyard animals book is proceeding in fits and starts. The problem has been finding the right amount of detail and the right voice. A garden club presentation which is currently in the works is trying out yet another approach, so the book may go better when that's done.

Now that it's the cooler season, it must be time for Ann to take up fiber arts again. This year the new skill is Tunisian crochet, sort of a cross between crochet and knitting. It makes nice firm fabric, with interesting possibilities for using color. But what to do with it? Tote bags? Place mats? The urge to experiment with yarn might have more useful payoffs in a cooler climate.

Our daughters Laura and Sarah and their families are doing well. Sarah and Clint are still living in Katy TX and working in Houston, so their lives still focus on getting everyone to where they need to be, on time. Both boys are now in public school, both on the same schedule, which helps. And Clint has a new job with more reasonable hours, which helps even more.

Sarah has found the time to make a reindeer-themed quilt to be used while watching Christmas movies — it's lovely! The boys seem to be happily obsessed with super-heroes, Pokemon, Legos, trains, and planes.

Laura and the girls came to visit us for their spring break. Clint and Sarah and the boys took a week off work/school and we all went to a different tourist attraction every day. Museums, the Zoo, the San Jacinto Monument and the Battleship Texas, the Alley Theater costume shop, the beach, and a state park complete with free-range alligators — we did it all. It was fun, but Grandpa and Grandma were exhausted all the next week.





The whole family. Back row: Laura, Neal, Clint, Sarah. Front row: Bridget, Katelyn, Owen, Ann with Robbie, Nathan.


Back in Utah Laura has had a very challenging year. As with Sarah and Clint, a lot of the stress comes from keeping busy schedules going. Her work at the emergency clinic involves overnight shifts, which don't seem to be mixing well with her daytime shifts at Holladay Veterinary Hospital. But she gets to do lots of fun stuff, like teaching animal first aid to first responders, and working with the wonderful Urban Search and Rescue dogs.

Lately the girls have been into building dioramas. First it was a haunted house for the Barbie dolls (made of a cardboard carton). Then there was a turkey farm, complete with funny looking turkeys. Most recently they made a large, Barbie-sized gingerbread house. Fortunately, vet clinics get a lot of cardboard cartons.

| | | | | |
| --- | --- | --- | --- | --- |
| The finished turkey | | Under construction | | Gingerbread house |


Home in Brazoria, our corgi boy Robbie Rosco is always around to entertain us. He takes his responsibilities very seriously, the main one being to keep his squirrels in line. He knows that to herd them up he needs to apply the corgi methods — nipping heels and barking insults — but it's difficult from the ground. Despite his best efforts, getting up into the trees with them hasn't worked so far. So he falls back on the barking part until all squirrels are out of the yard and out of sight.

| | | | | |
| --- | --- | --- | --- | --- |
| Surveying his kingdom | | Squirrel duty | | Heavy rain |


As always at the end of the year, we look back and are grateful for the support of family and friends. We look forward to the new year, when we hope there will be many more good times (maybe even a trip to Utah?). And we wish for all of you a new year filled with good times with the ones you love.